Marry Me: a promise of love between glass and light
The intimacy between glass and light emerges from the name of the new lamp that FIAM Italia has developed in collaboration with Davide Oppizzi.
Its name is Marry Me and tells of the idea of light and glass coming together and standing apart at the same time to give volume to the structure.
FIAM's DNA and know-how have been fully exploited in the creation of a circular patterned glass that acts as a decorative light diffuser available in 3 colour variants (extralight, smoked and bronze) and in 2 different textures: an 'organic' one, which give materiality to the glass, and a 'geometric' one, more refined and elegant.
At the centre of the above glass disc is a metal joint. Like a ring and its diamond, the clamp inherits its elegance and its precious and elaborate finishing from the world of jewellery. This is complemented by a circular aluminium structure, in mid-bronze finish, which suspends this light source in the air.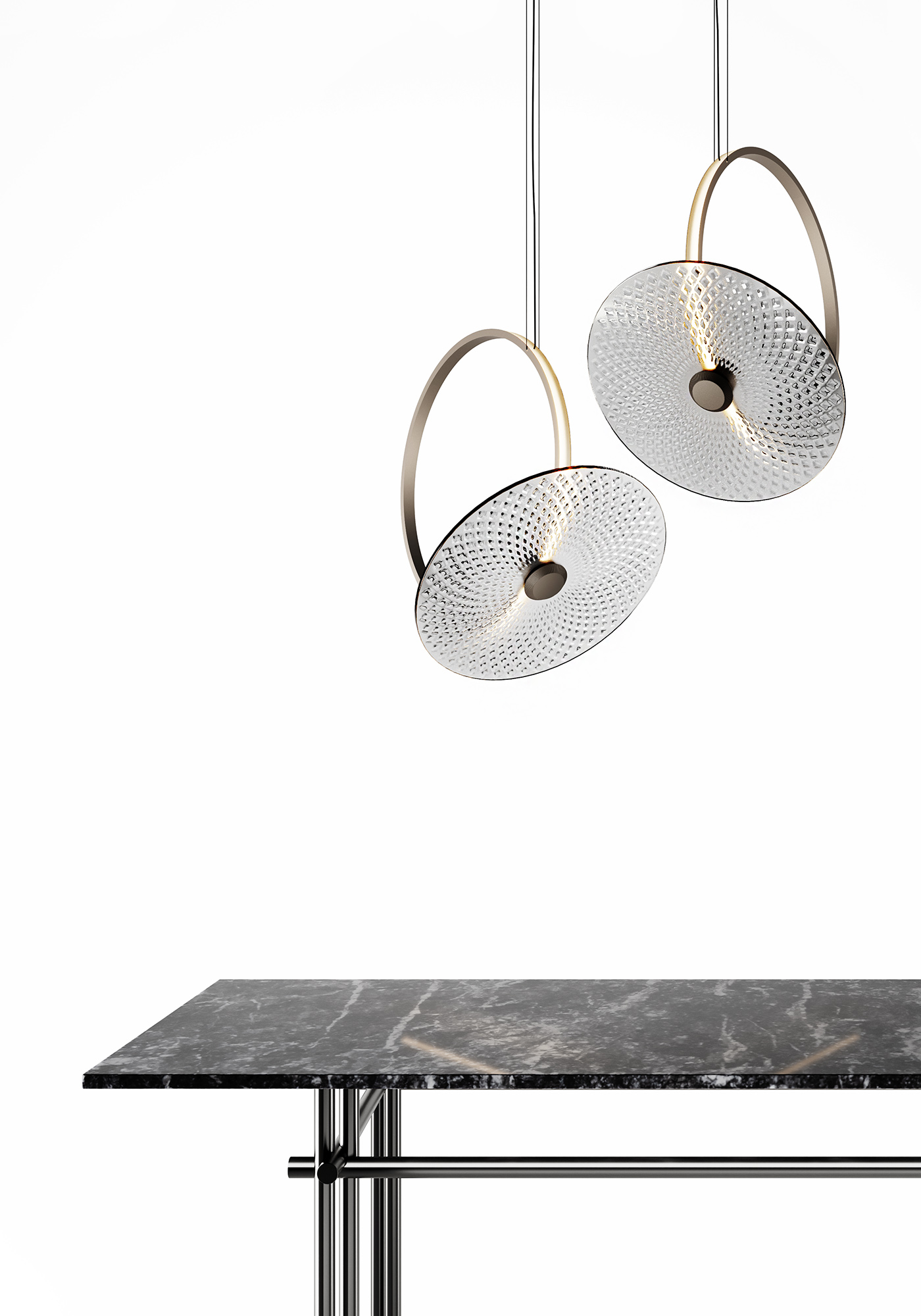 Davide Oppizzi has designed a chandelier that can adapt to all contemporary environments, which can be composed and used in both horizontal and vertical spaces. Marry Me can easily become the 'masterpiece' of your interior design projects.
The Swiss designer has always been in constant search of pure, authentic lines that elevate the object to a level of timeless, exclusive and functional aesthetic refinement, and the Marry Me chandelier confirms this approach by Oppizzi, which is particularly evident in the collections related to the art of lighting, where he has specialised over the years.
Designing a lamp is a complex and fascinating challenge: you have to understand how light interacts with the materials of construction and what final effect their encounter will produce. The fascination of glass reflections is undeniable and the combination of glass and light is almost a natural instinct.
All the chandeliers designed by FIAM aim to act as real sources of light that shape the identity of the environment, illuminating void and solid spaces and giving the role of interpreter of the space to light, that reveals itself.
Last year Pearl was launched, a sphere of transparent Murano glass designed by Adele Martelli. Today, the introduction of Marry Me in the "Lighting" collection by FIAM further expands the range of products available, continuing the path of research and revolution that the company has been pursuing over if 5-decades history and exploring the material of glass to give life to ever new and fascinating products.
Glass and light, a union with a thousand reflections and a thousand potentials.