Silica: a functional work of art
A functional work of art: that is the way Arik Levy introduced his new Silica mirror, designed and developed with FIAM Italia.
The Israeli designer, who was awarded with the Chevalier des Arts et des Lettres de la République française after moving to Paris, is not new to the realization of works of art like the numerous sculptures made, which made him famous all over the world.
Presenting this new collection Levy explains how designing a mirror is a complex and profound activity. It is not just about realizing an object that is an end in itself, but thinking about the reflection that this will establish with the person who stands in front.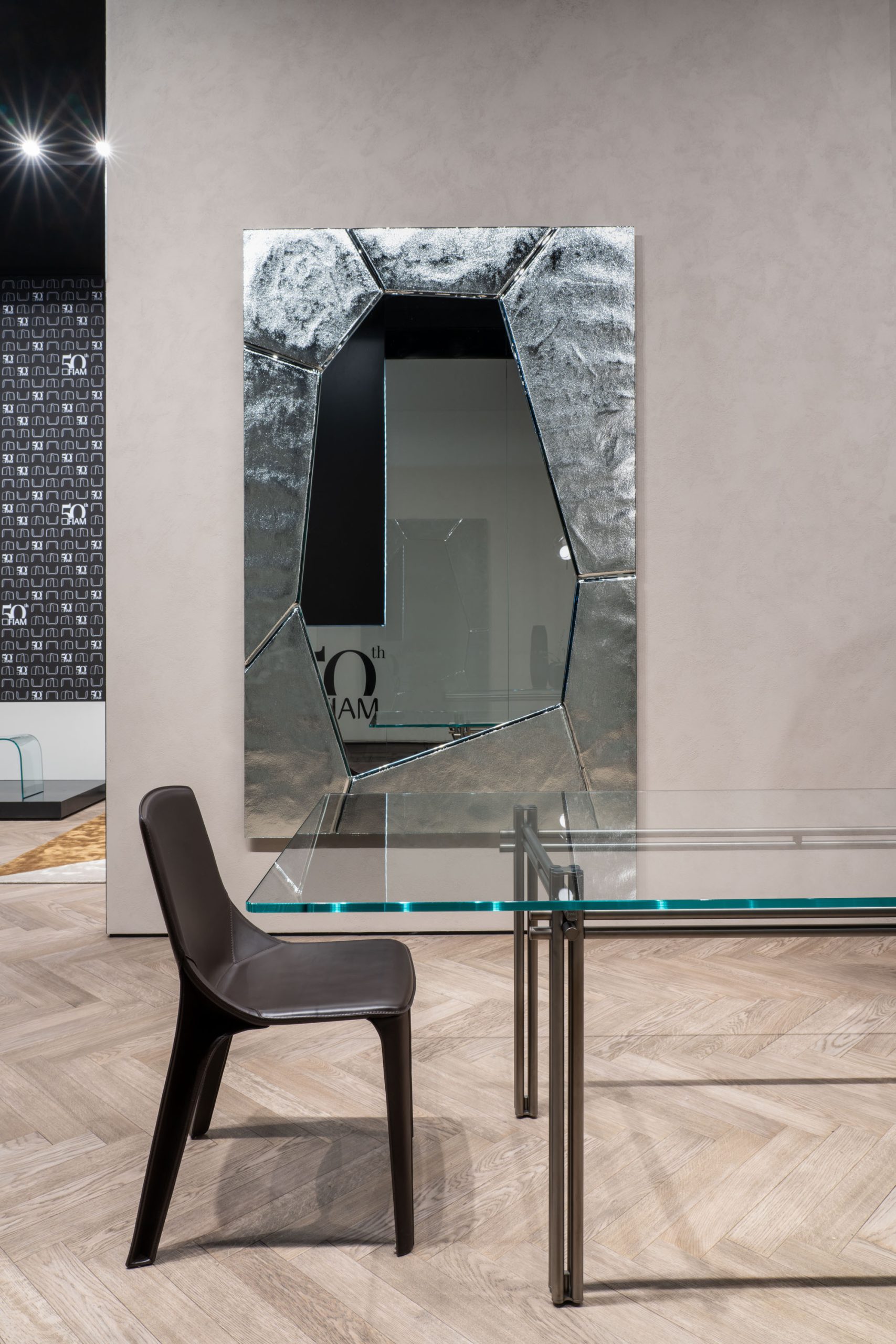 A dialogue is set between the mirror and its observer: what the mirror shows sometimes is of our liking and sometimes not, but in any image reflected always offers the possibility to see ourselves and all we are, perfect or not. 
Perfection and imperfection coexist in any human being, and the same happens in Silica, whose perfect smooth reflecting surface is combined to the "imperfection" of the surrounding frame, designed with a shapeless texture that fragments light, and divided by crossing lines that remind of silvered rivers while catching the eye and diverting it from the central part, toward unexpected dimensions.
Looking at ourselves and, at the same time, looking somewhere else. Hitting our ego to open in the space.
The textured frame of Silica, available in bronze and smoked finish as well, is realized in high temperature fused and back-silvered glass through a handmade technique. Fusion and back-silvering, two of the processing that FIAM masters most as a result of its 50-year history. While the former process consists in the glass getting modeled by gravity, with the assistance of the company's skilled craftsmen, the latter one consists in applying liquid silver to the glass in order to make it reflect the light rays.
The collection of Silica mirror presents two formats, a square and a round one, and four possible dimensional variants that can be hung both horizontally and vertically. A great variety of options conceived to fit any room, with the additional option to create configurations by combining their grooves.
In the intentions of Arik Levy, Silica is set to redefine the interior environments in a new way, acting as a rebel and interacting with the surrounding space to create infinite and unexpected reflections. A work of art, but functional. A perfect imperfection that triggers the brain of the observer, inviting to the exploration and to the connection with the surrounding ambience.