Flaminio: the new dining table designed by Studio Klass
The collection of glass dining table by FIAM Italia expands with the presentation of Flaminio, realized in collaboration with Studio Klass.
Flaminio was born from the desire to enhance the lightness and harmony of an object, the dining table, which is an absolute protagonist of many situations of our daily life. The name of this table is clearly a tribute to the homonymous Roman stadium designed in the late '50s by Pier Luigi Nervi and is characterised by the same delicacy of many works by the Italian architect.
The new Flaminio table plays with contrasts between solids and voids, enhancing the craftsmanship of the fused glass in relation to the lower wooden structure. The table top is supported and framed by the frame which, thanks to its unusual section, divides the top from the base. Base and top are made of two contrasting materials: glass, with its fluidity, and the solidity of wood.
And it is properly the coexistence of these two materials, skilfully combined by Studio Klass, the element that creates a product capable of adapting to and at the same time enriching any ambience.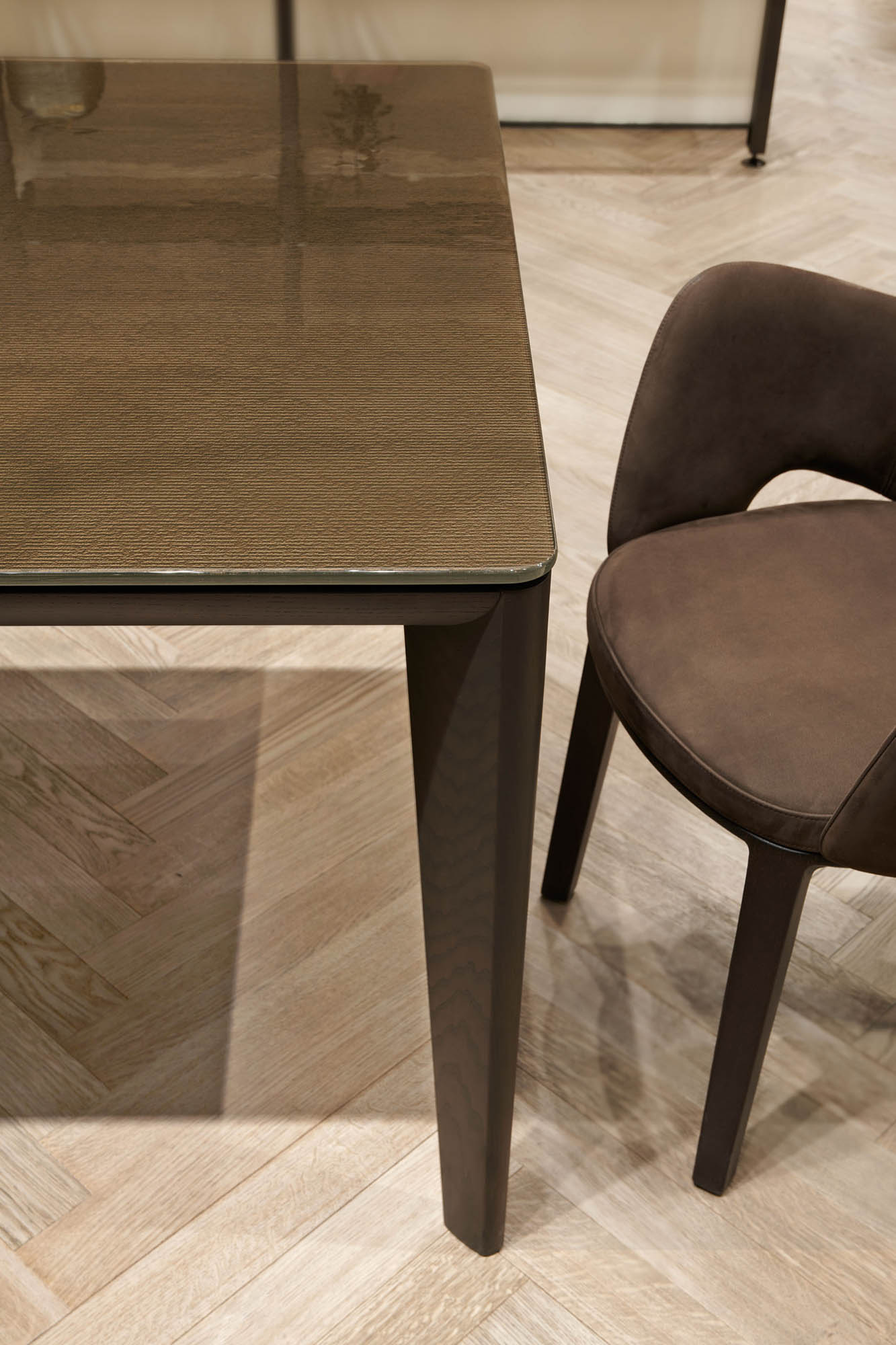 Ever since the foundation of Studio Klass in 2009, Marco Maturo and Alessio Roscini's works have been marked by the attention to materials and their formal language, as well as by a particular heritage of industrial design. All these aspects had emerged in the previous collaborations with FIAM that led to the creation of various pieces of curved glass furniture elements such as the Magique coffee tables, the Magique Totem showcase, the Foulard shelf, the Plié collection, the Lakes coffee tables and the most recent Hype console.
The top of the brand-new Flaminio table is in high-temperature fused and tempered glass, available in brilliant brown or brilliant black finish, and its production is made possible by the unique know-how and firm specific technologies developed and guarded by the company. Its lower solid wooden structure as well is available in two options: tobacco or black, heat-treated finish.
And if the table is the protagonist of many moments of daily life, with the launch of Flaminio, FIAM's proposals are further extended, adding another impressive piece to the already wide range of products that the Pesaro-based company offers for a stylish dining setting.
Surfaces characterised by the materiality of glass, declined in all its possibilities, from transparencies to patterned effects. Each surface brings out the expertise and skills of FIAM's craftsmen, with a material that takes on a new life in each new product.
A dialogue between different textures, finishes and materials, to create polymateric tables that can be the protagonists of the ambiences they are placed in.
And with a table like Flaminio, any room acquires value.