Cristaline: new coffee tables and consolles complete the collection by Marcel Wanders
A year after the launch of the Cristaline dining table, Marcel Wanders' collection grows with the integration of a set of coffee tables and a console.
The products of the Dutch designer's collection have soon become a flagship of FIAM product range thanks to the distinguishing floral pattern inspired to the traditional potted bouquet achieved through the firm high-temperature fusion technique. A clear example of the company's maestry in the field of glass manufacturing and processing.
"These coffee tables have been developed as a sign of joy, nature and cosiness for the home. We drew inspiration and created poetry through the fusion of glass to make this beautiful bouquet eternal". With these words Marcel Wanders summarizes the soul of this collection: poetry in the form of glass.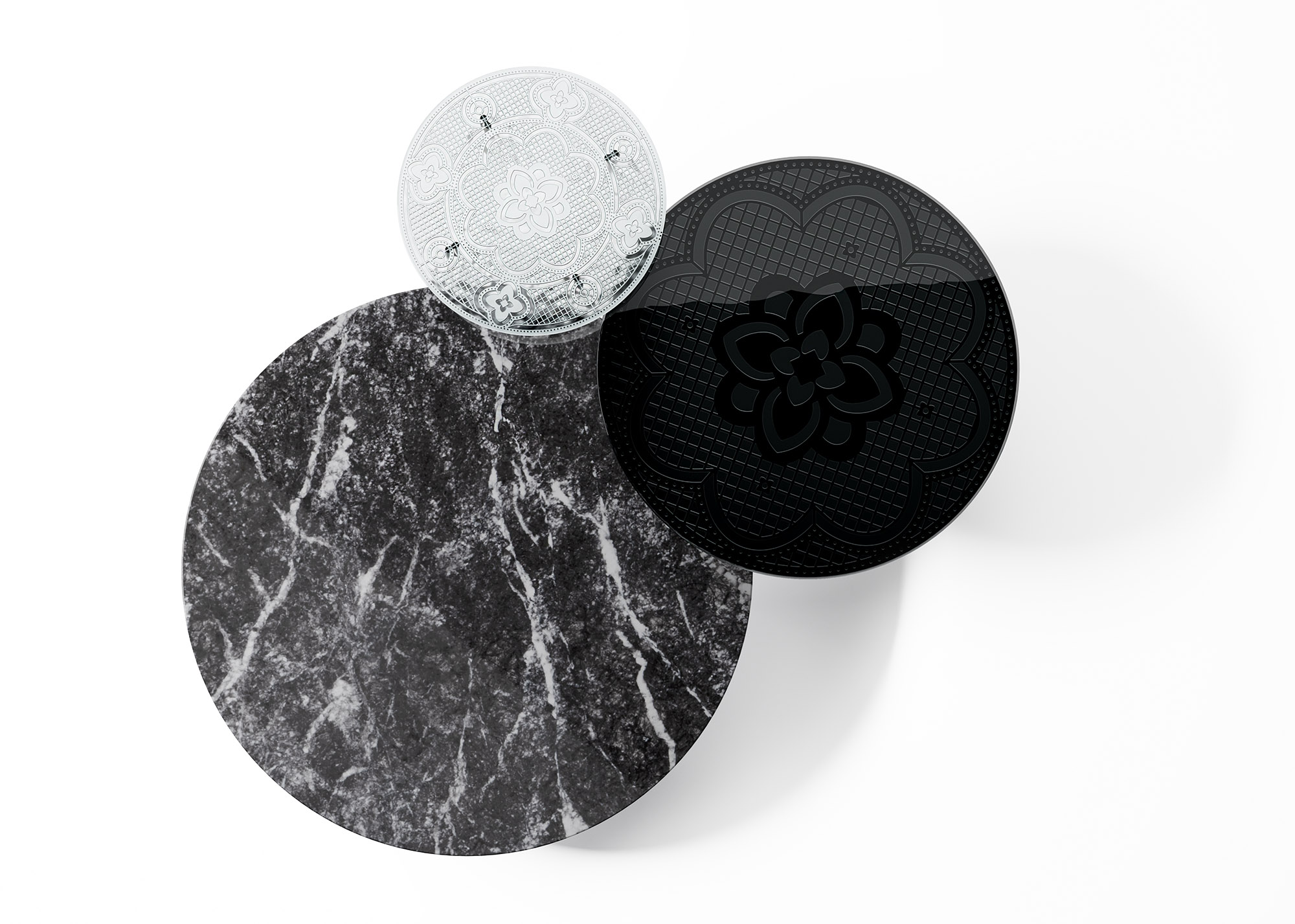 The decorative pattern of the glass top replaces the natural flowers with eternal engravings of transparent pistils, literally crystallizing the poetry of nature. FIAM Italia's know-how and expertise in glassmaking allow to always welcome the organic beauty and the nature at home.
Whilst the Cristaline dining table was designed for the Dining room, given its format, the round coffee tables, available in three formats (diameter 50, 80 e 110 cm.), can be placed in the Living room in the light of their functional top that acts as a restricted support surface while still guaranteeing furnishing continuity with the dining area.
The rectangular console is also offered in different dimensional variants in length (130 and 147 cm.) and as well as the coffee tables introduces 4 marble finishes as an alternative to the characteristic high temperature fused glass or smooth tempered top (Carnico Grey, Mystic brown, Calacatta Roya and Manhattan). In all cases the structure is in metal, available in Black glossy nickel or Opaque titanium finish.
This wide variety of options makes it possible to furnish more ambiences, even contiguous, and to mix more products from the same collection.
In past Marcel Wanders had declared how his mission in the world of design would have been that of "creating an ambience where love could reign and people could live with passion and realize their deepest dreams", and with no doubts his effort has found in FIAM an ideal partner, equipped with all the tools and facilities to make this happen.
For 50 years, in fact, FIAM has daily challenged a material, glass, that is magical and eternal, making almost unthinkable processes possible with its know-how and expertise.
The Cristaline collection, with the dining, coffee and side tables and console is a tangible proof of the lateral thinking of glass pursued by FIAM that subverted the paradigm of glass. Every environment will be filled with magic and poetry with Cristaline.