Tactile suggestions for a stylish living
First of all, surfaces adjust the brightness of the environment: transparent surfaces allow light to pass through them, reflective surfaces send beams of light back – not necessarily in the same direction they came from – and opaque surfaces absorb light radiations, muffling and shrouding them.
The surfaces of the furnishing materials, then interact with each other. In conceiving our Moods we have always played with different surfaces, putting them in relation to each other: glass and marbles, smooth and rough surfaces, pure or fused, flat and curved, warm and cold ones. In this network of connections, the user who inhabits the ambience is a central figure, being implicitly invited to enter first-hand in the Mood and play with the surfaces.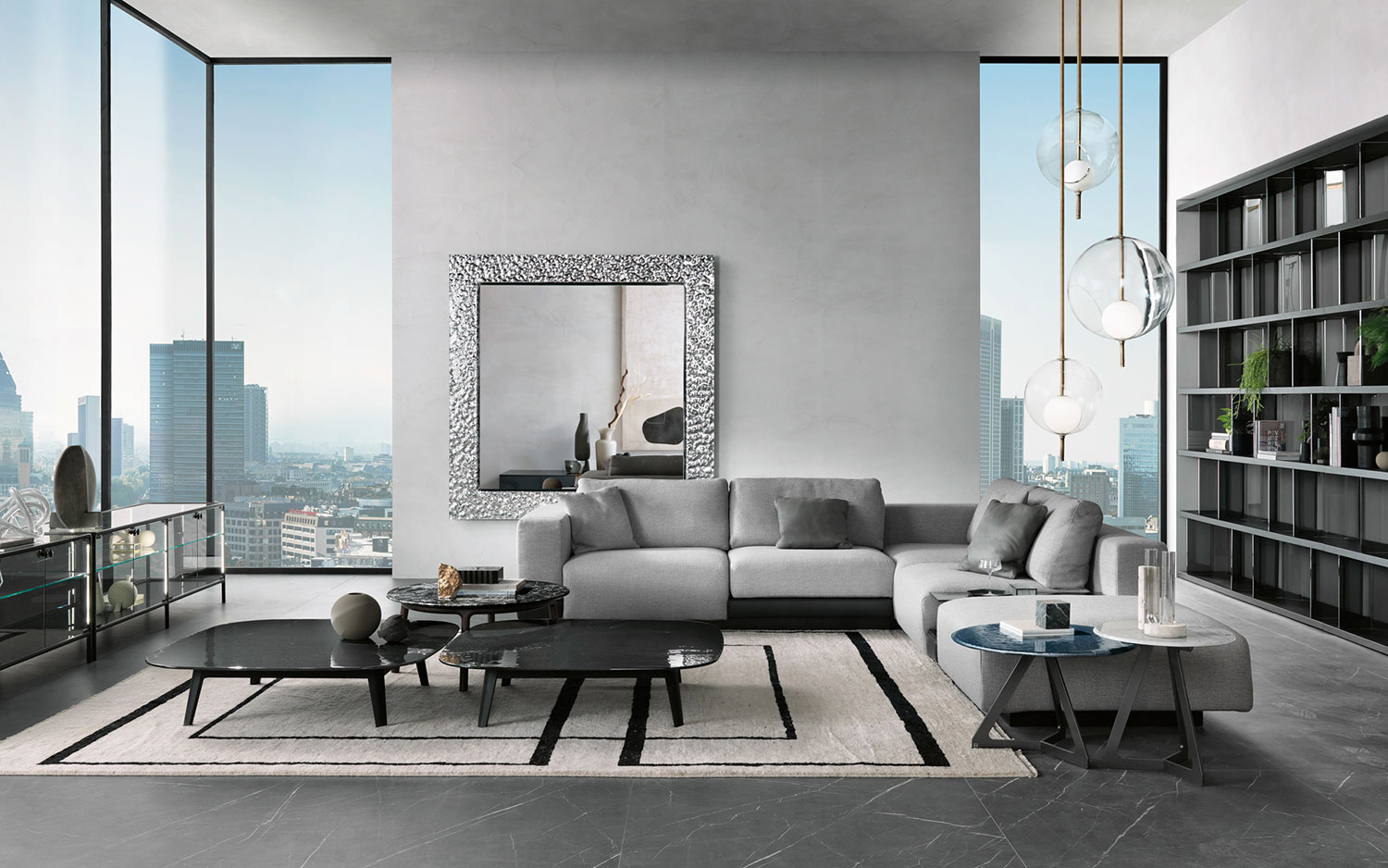 The different types and conformations of the surfaces stimulate tactile suggestions and invite not only to observe, but also and most importantly to touch, to perceive different synaesthesias, mix of looks and tacts, thus generating emotions.
From sensations to emotions, this is the journey we want our interlocutor to embark on. Sensations start with surfaces that stimulate the sight first, and the touch and mind then. The Venus mirror frame, a dreamlike fusion of thousands of other looking-glasses, brims with reflections, waves, vibrates. It is a hymn to femininity, to the multiplicity of glances and reflections, which change with the time of the day and the different inclination of the sun's rays.
This is where the upholstered collections that we have recently integrated to our product range are contextualized. The Carrara sofa (designed by Matteo Nunziati), with its large volumes interlocking by analogy and difference, accommodates among its roundness the linearity of unexpected glass inserts. In Carrara as well an interplay of contrasts emerges: curved and flat lines, warm and cold ones, smooth and rough surfaces, polished and matt traits. Living is really also touching, breathing, sitting between the large volumes of cosy and heterogeneous materials that evoke the spatiality of the massive blocks of the refined Tuscan marble caves.
Our living room proposal is completed with the seats that, if complemented by the glass tables often merged in the conviviality of dining, can furnish more intimate and reflective spaces of the ambience as real protagonists. This is the case of Oscar (designed by Patrick Norguet), the new solid wood armchair: an elegant, functional seat for the dining area that beacomes a small domestic throne for the living space. Its open-pore painted finish allows all the natural grain of the wooden structure to be perceived and enhances the soft "One" or "Nubuck" leatherswith sensory stirrings that increase the sense of cosiness, intimacy and sensuality.
An ambience whose surfaces are reminiscent of encounters, familiarity, everyday life, and ultimately – nomen omen – life.