Desks in curved glass: the home office according to FIAM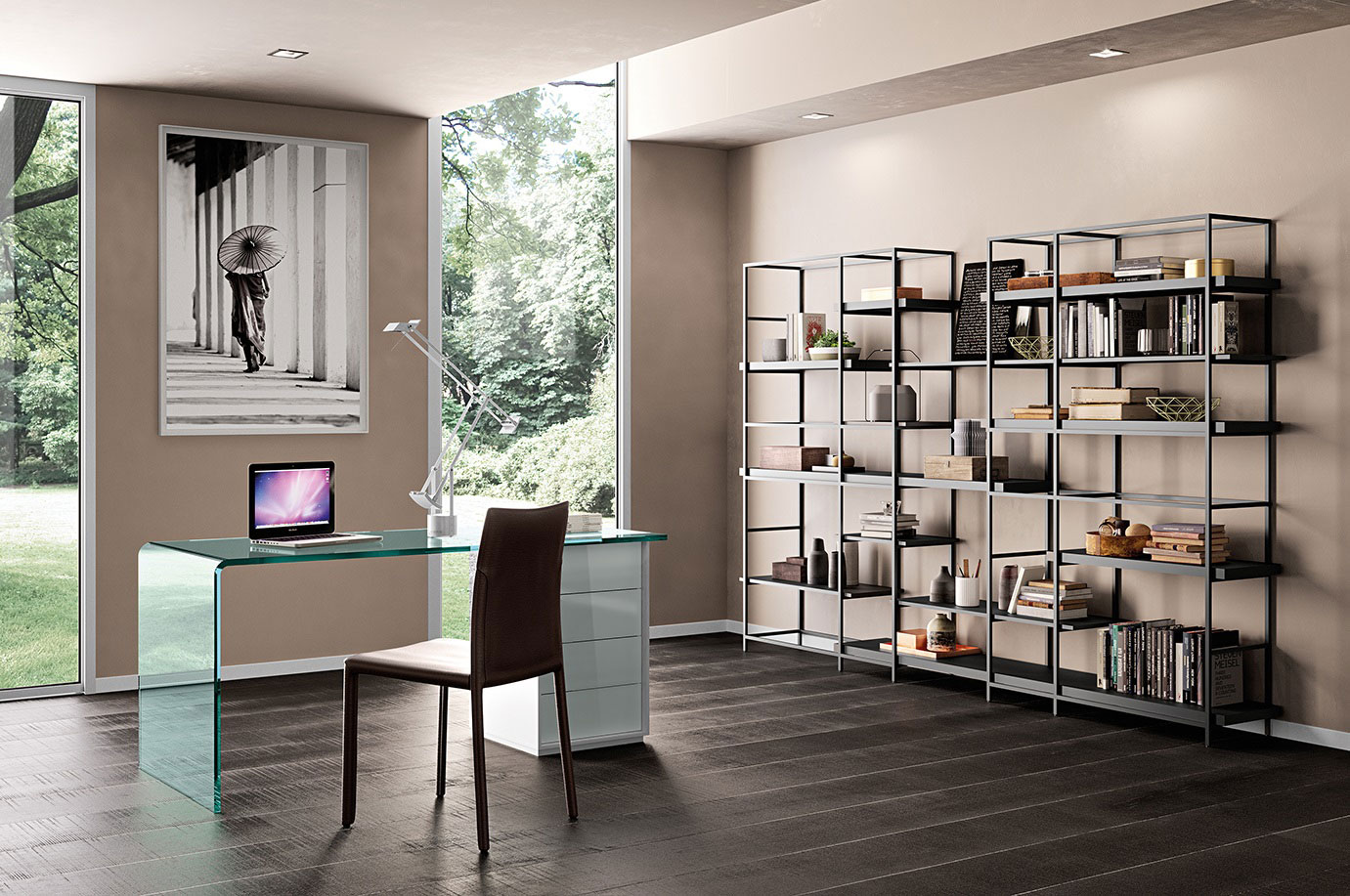 An extremely good solution.
Ever more studies indicate that this trend, accelerated by the pandemic situation in the last two years, is taking on permanent features both in companies and in public administration. More and more families are consequently finding themselves in the position of having to reconvert some domestic spaces for home office use.
Smart working is here to stay.
The stabilization of this trend goes hand in hand with the stabilization of home office furniture. From a console table where laptops used to rest precariously to a real desk, from a stool to an ergonomic chair, with particular attention to the quality of materials, as well as their aesthetics and healthiness in the smart working room.
Curved glass desks, with their sinuous transparencies, can guarantee that aesthetic effect that in FIAM we like to define as "absent protagonism", particularly useful in rethinking the functional destination of an ambience without overwhelming it with impactful elements. A curved glass desk, regardless of its obvious functionality, offers aesthetics effects of elegance and refinement that, thanks to the transparency of its material, becomes the protagonist of the space without visually impacting the perceived space or obstructing the overall view. Functionality without (apparent) mass, in harmonious dialogue with the surrounding ambience, whether it is an office or a home.
A curved glass desk offers aesthetics effects of elegance and refinement.
Some curved glass desks also allow ample flexibility and can be positioned into the rooms of the house: for instance, the Rialto desk can have a classic configuration, or lean against a drawers unit (Rialto L), or can be even installed directly on the wall (Rialto L wall mounted). Where there is more space available for the home office area, or even a studio, the Rialto Isola offers next to the main desktop an auxiliary surface (left or right), which can be colored indeed, for an enveloping and extremely functional workstation, making everything easily accessible.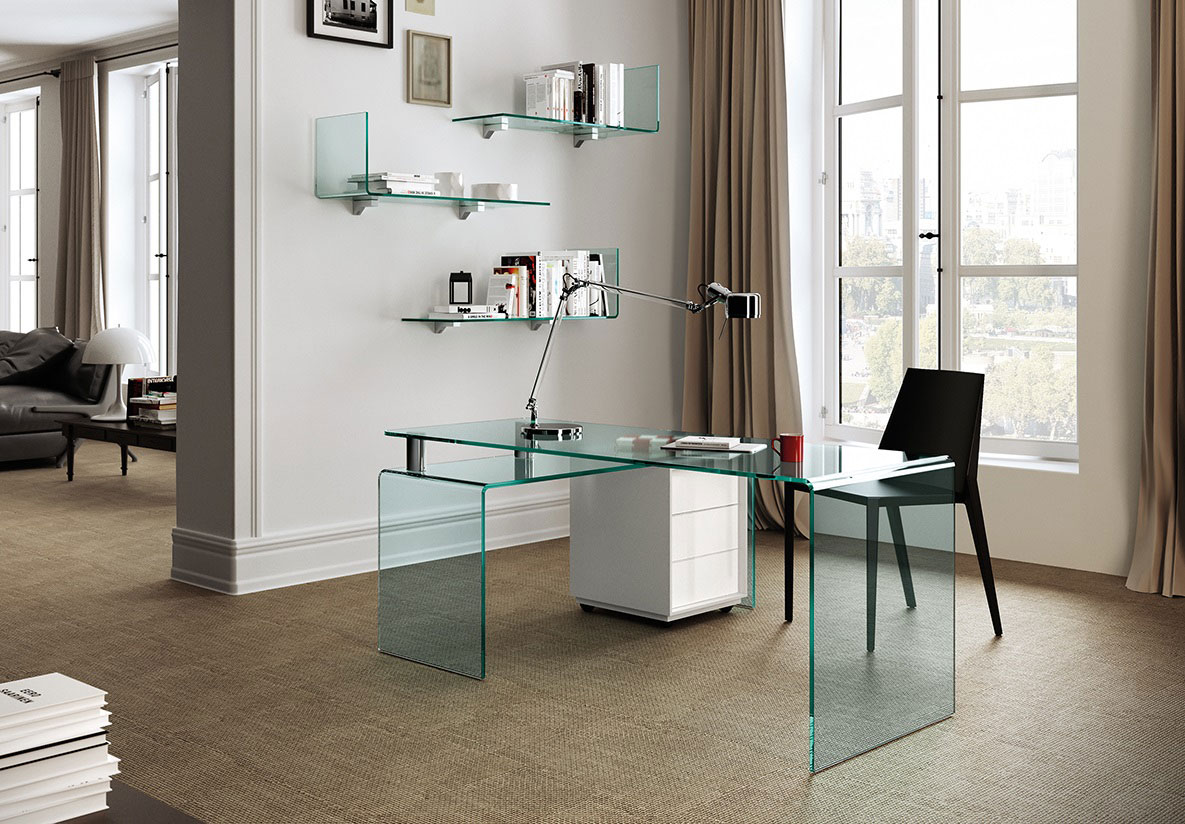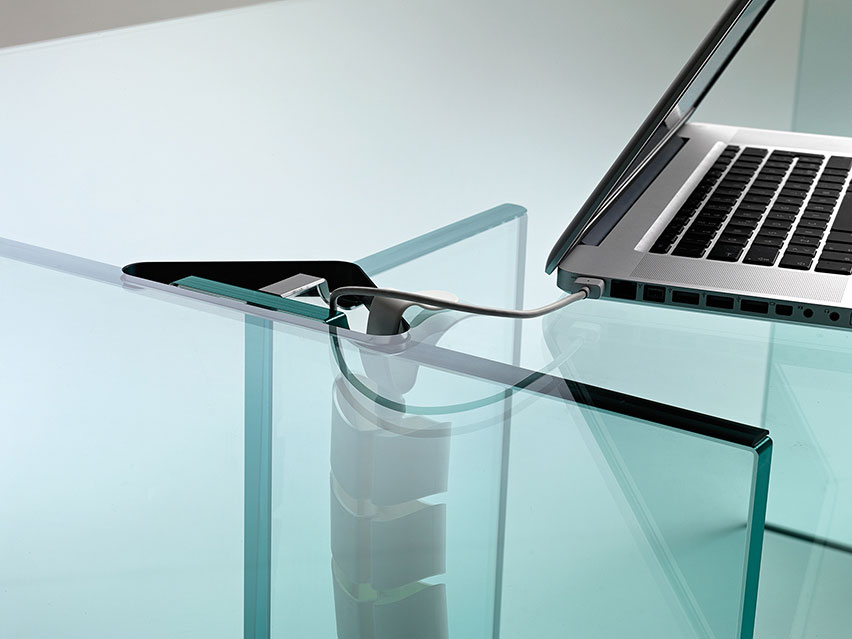 Functionality, ergonomics, and aesthetics are perfectly combined in some details and devices that appear marginal or insignificant at first glance, but instead crucial in everyday life to ensure a fully satisfactory experience. A concrete example: both in the office and at home the workstation is getting increasingly enriched by technological devices, being consequently haunted by cables (power, connection, network, etc..) of various shapes, colors and sizes. Sometimes we delude ourselves and think that we can handle them with cable trays, conduits and elastic bands that end up making the situation worse, in other occasions we resign and leave them dandling like sad electronic lianas, ruining the appeal of the space and creating frustration, as well as limiting the functionality of the space itself. A design focused on usability and human elements is certainly able to foresee and prevent these unpleasant situations, even when the curved glass desks can surprise not only on the aesthetic front, but also on that – very critical for the work environment – of ergonomics and functionality. This is the case of the LLT glass desk, which is also offered with appropriate holes and accommodations that hide the cables so that their ends emerge exactly where they are needed: cleanliness, transparency, aesthetics and ergonomics are thus perfectly guaranteed for a quality workspace.
cleanliness, transparency, aesthetics and ergonomics are thus perfectly guaranteed for a quality workspace.
Last but not least: whatever the working space is, in the operational heart of an organization, or at home, it is always essential that the elements of furniture cooperate to ensure a correct posture to protect the health of the user.