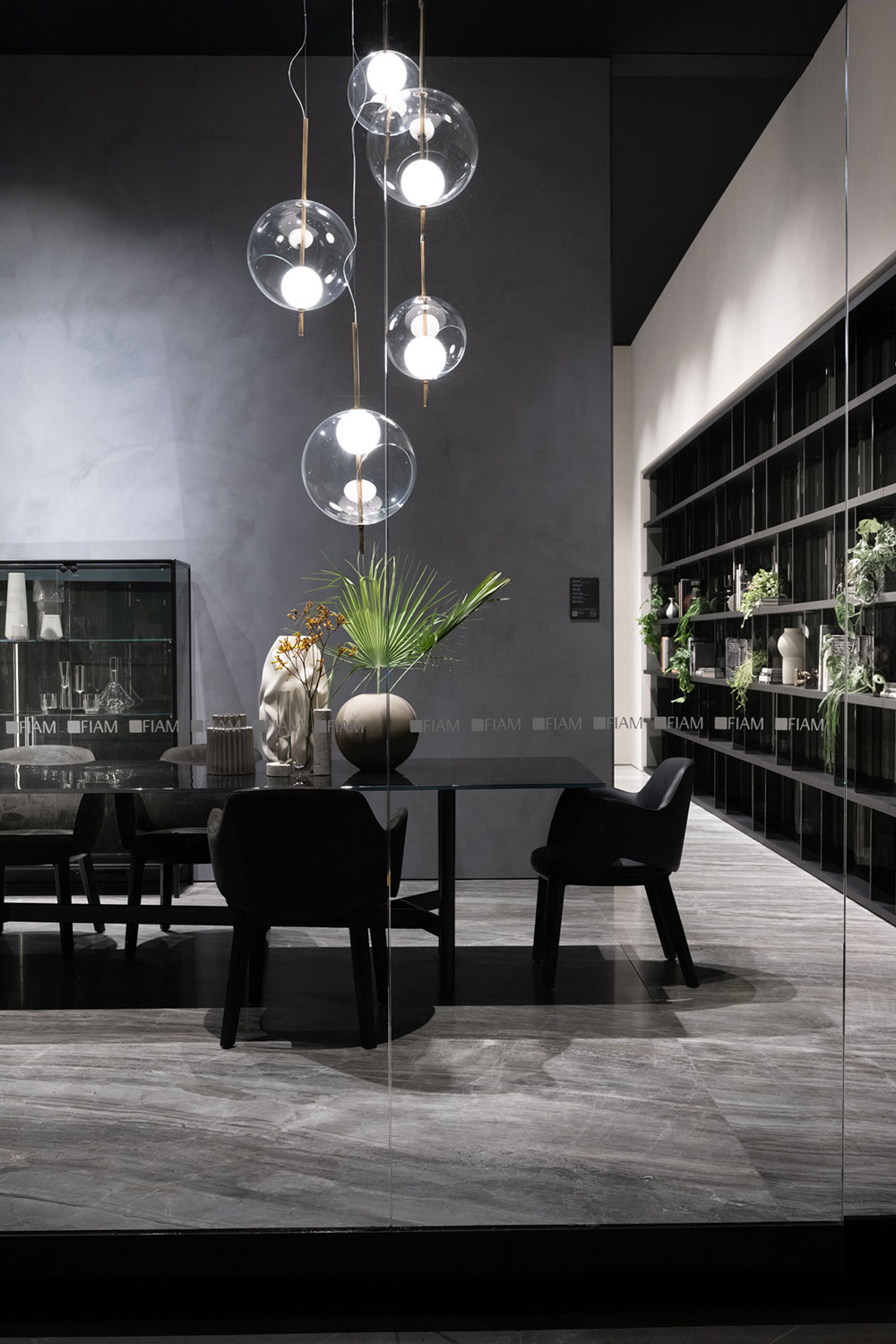 A new light for the dining
Light that furnishes, surprises, illuminates voids and solids while ultimately creating and shaping the identity of an ambience.
Conceiving the lighting of a room is a matter of design: the most common figures of speech reveal this. "To highlight", in the sense of enhancing a feature that is not necessarily obvious, or: "to find the right light", that is, the right point of view to interpret facts, to decode a space. Or also: "to shed some light", meaning to clarify every detail. Hence light brings out, affirms, enhances or modifies perception. And above all, light communicates. With surfaces, first of all, because reflected light tells us about what it refracts on: a transparent, coloured, opaque, reflective, smooth, rough, impalpable surface. Light stimulates not only the sight, but also the touch: light is a trigger of the senses, giving voice to apparently inert surfaces. The Incisive Modern Mood is immersed in this play of dialogues, reflections, rebounds and cross-references with three main protagonists: light, tactile sensations and warmth.
Just let three of our Designers' products from the above Mood describe how they relate to the ambience they contribute to create.
The source of light is a sober element that can be inserted in different contexts. The glass sphere of our Pearl lamp houses the relevant light bulb, and can assume different positions and configurations, entering into dialogue with the other furnishing and the various surfaces that characterise the atmosphere.
The Agos dining table is fluidly static. Its relevant top is not perfectly smooth, as if it was animated by a gentle breeze, and is supported by a geometric base that is also dynamic in its genre. Stability and fluidity, rigorous design and fusion combine harmoniously in a table that is beautiful to the eye and to the touch.
Newton is the latest fruit of the collaboration between FIAM Italia and Studio Klass. It is a tiny chair distinguished by sinuous shapes created by a well-defined silhouette. The solid wooden structure of Newton supports its upholstered seat available in elegant leather and nubuck finishes, welcoming the guest by giving him pleasant tactile and visual sensations.